5 Things New Franchise Partners Should Know About Opening A Qualicare Business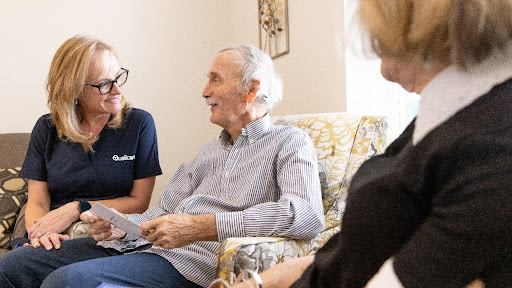 What personality qualities help franchise partners succeed? How does Qualicare's home office provide support and assistance? What should new business owners expect in the first year?
When launching a new business, there is an endless stream of questions! New franchise partners deserve to know what to expect from business owners who have paved the way. In today's blog, Dana Chan, owner of Qualicare Edmonton Northwest, lends her advice on starting a new in-home care and senior care franchise!
Successful franchise partners are compassionate, hardworking, and flexible
Since Qualicare's work requires intimately caring for clients in their homes, a genuine desire for the well-being of others is vital for success. "Families and staff need to see that you have their best interest in mind, and qualities of compassion and friendliness will reflect that while building relationships with them," Chan said.
Additionally, the work of building a business is ongoing and constant, so being a hard worker, who is flexible and a good problem-solver, will go a long way. "A lot of things just "come up" and you have to be able to adjust with creative solutions," Chan said.
Financial planning and time management are vital to success
New business owners need to have a solid long-term plan and know how they will finance their business. Chan advised new franchise owners to ask themselves important questions about cash flow, and if they can survive without an income in the beginning. A former elementary school teacher, Chan was teaching part-time as she began transitioning into being a full-time business owner.
"Prospective franchise partners need to make sure they have the time and financial resources in place if they want to open a Qualicare franchise," Chan said. "Starting this business has been more than a full-time job so you need to think to yourself 'can I do this on my own? If not, who is going to help me?'" Chan said.
Qualicare lives its values and is "like a family"
A stellar training program, excellent support network, and desirable financial projections for new franchisees all make owning a Qualicare franchise a unique opportunity. But the backbone of Qualicare's success lies in its authenticity.
"I feel like the Qualicare values line up with my own very well. I can't imagine owning a franchise where our values do not align, because it would make for an inauthentic relationship," Chan said. "If you want to do well, the passion and drive have to be there, and having a business that you stand behind is so important."
Qualicare as a whole is always looking to improve and learn from franchise partners who provide guidance as well. Chan describes Qualicare to be "like a family." Qualicare is always improving training opportunities for franchise partners and making plans for the future. These are reasons why Chan recommends prospective franchisees should look into opening a Qualicare franchise.
Participating in training and learning opportunities will help you succeed
"Take any training opportunity the Qualicare home office offers you," Chan said.
Qualicare's home office offers learning opportunities from business coaching, a QPS series, a business summit, and many more. All franchise owners should prioritize time to participate in the home office's training opportunities, says Chan. Not only do you gain new skills, but it helps business owners set reasonable expectations, and learn from peers.
"When you participate in these opportunities, you will see what others are doing, and how they solve problems. You'll be able to set realistic expectations for your own business," Chan said. "In the beginning, I had no idea what goals to even set for myself, but with the help of Megan White, our business coach, I was able to map out what is realistic for myself."
Qualicare's support network will help you reach your goals
Franchise partners are spread out across the United States and Canada, but despite the distance, Chan says that she feels very much part of a team. With the support of other franchise partners, the home office, and Megan, Chan says Qualicare has given her many opportunities to learn, grow, and connect with others.
"Whatever your goal may be, having someone keeping you accountable, and helping you through the process is key to reaching your goals," Chan said.
Qualicare supports 16 franchise partners in Canada, who own a total of 37 territories. In the United States, 13 franchise partners own 32 territories. Currently, Qualicare has territories available for prospective franchisees. Interested in learning more about becoming a Qualicare franchise partner? Check out our website & request more information here!