We're Growing! Introducing Qualicare Delta Surrey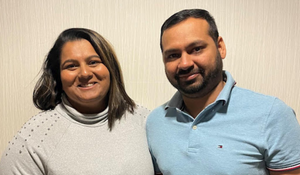 This past April, Shaili Patel and her husband and co-owner Bhavik Patel launched Qualicare Delta Surrey. With backgrounds in nursing, engineering, and management, the duo brings a wealth of knowledge to Qualicare. Through their dynamic first months as business owners, Shaili says "Qualicare treats new franchise partners like family members."
Qualicare's home health care and senior care franchise partners are a diverse and fascinating group of business leaders. Learn more about the Patels' journey in today's blog!
Shaili, what led you and your husband to Qualicare?
I am a nurse back in my home country and completed schooling in Office Medical Administration, with additional training during a 6-month medical unit clerk course. I also worked as a Care Manager. My husband and co-partner of the company is an engineer by profession and completed his project management education in 2010. He has management experience of more than 10 years and worked his way up to Project Engineer Manager.
I wasn't happy with my last job and had little control over the years being a Care Manager or a Care Coordinator, so I quit my job. One morning, I was just browsing Home Care businesses for sale, and I came across Qualicare. The rest is history!
How does Qualicare support you?
Qualicare always has answers for me in difficult situations. They really will help whenever you ask! Julia and Megan, from Qualicare Home Office, taught me all the necessary steps to take in unknown situations. They taught me how to know the correct procedure to follow as well, so I have a guide. Qualicare has a very systematic structure to follow as we grow in these first months.
Other franchise partners help me too, they have been a great support system. Michelle and Warren helped me while I was setting up the initial systems and did not hesitate to answer all of my questions! I am often afraid of encountering business challenges, and they definitely made this journey less bumpy. Michelle was also generous to refer a couple of private clients to us.
What is one of your goals for your Qualicare franchise?
Right now, we are concentrating on finding more private clients and creating referral clients as much as possible.