Meet Mark Foster, Qualicare Barrie & Collingwood Owner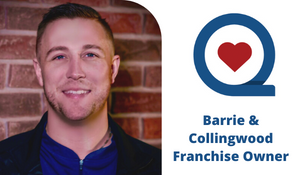 Introducing Mark Foster, one of Qualicare's newest franchise partners! Mark launched the Barrie & Collingwood Qualicare branch in Central Ontario this past January. Ontario offers an exciting growth opportunity for Qualicare, as the senior population age 65+ is projected to double by the year 2046. After working for several years in the healthcare industry, Mark saw the amazing potential for growth with in-home healthcare and senior care franchises. Today, Mark joins us to discuss his background and education, and how Qualicare supports his growth.
Mark, tell us about your professional background. What led you to launching a Qualicare franchise?
Healthcare and quality of life care have always been areas of interest for me. For example, when I was 18, I took care of special needs kids in their homes, and I did that for several years.
For the past eight years, I've been working in the senior care industry as a healthcare consultant. I've administered and run programs in retirement homes and I've been a consultant in healthcare services to most of the long-term care and retirement homes in Ontario. I worked at three different retirement homes and have performed research studies all across Canada in long-term care. I saw a trend in this research that showed that the future of senior care will be mostly based in home care.
So the next question I had for myself was "what would it look like to start an in-home care business for these seniors?" And I found it was better to have a franchise that was already running. I looked into different companies and found Qualicare to be the best fit for me.
What's your educational background?
I did six years of study in Healthcare Studies with a focus on Geriatrics. I also completed a business program as a double major. Then I went on to do my MBA from Strayer University in Washington D.C. in Business Administration and Healthcare.
How does Qualicare support you?
In this industry, the home office is the most helpful thing for me. There's an ecosystem already in place and a community that supports you in your journey. I really like the fact that I can reach out to other franchise owners, most of whom are very close geographically and can get answers to things I'm learning to solve.
So far the transition curve has been pretty steady and pretty clear. It's a huge industry and there's a lot of people who need these services. I do believe I will find great joy in the business being established!
Are you interested in exploring Qualicare's franchise possibilities? Check out our website and request more information today!