We're growing! Introducing Qualicare Kansas City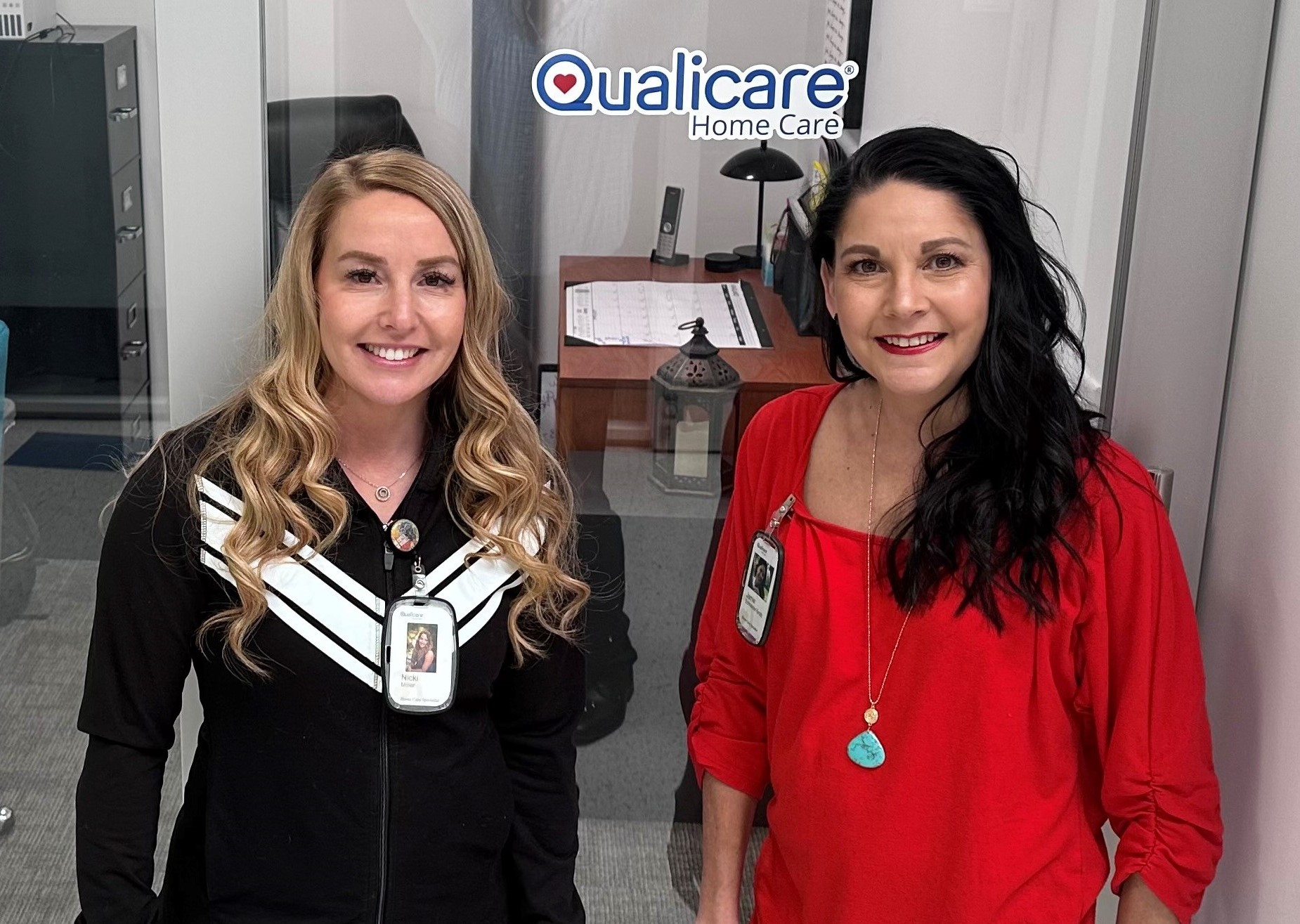 Only 5 months after launching in-home healthcare and senior care franchise Qualicare Kansas City, sisters Jamie Schneider, and Nicki Miller found success attracting clients.
The sisters' embodiment of Qualicare's 360-degree approach has been warmly welcomed in Missouri, and Jamie says she wants their clients "to be treated like family." The veteran-owned business launched in October 2022, and since then, Jamie said their team of 3 is "always moving toward the future." Learn more about the sisters' journey in today's blog!
What attracted your family to Qualicare?
"It was our dad's idea," Jamie said. "He recognized that the in-home care industry isn't going to go away. He is a veteran, and a baby boomer, and knows that someday he's going to need that care, so he shared the opportunity with Qualicare, and we were interested."
At Qualicare, veteran-run franchise partners have the opportunity to buy two franchise territories for the price of one, which was a great perk for the family. Additionally, the sisters found the state of Missouri to be full of opportunities for in-home care and are looking at potential expansion into Kansas. Qualicare was an immediate fit with the sisters' values as well, and they didn't need to look at other franchises. Since they would have "brought the 360-degree approach anyway," according to Jamie, Qualicare "just made sense."
How has your professional and personal background led your family to Qualicare?
Like many franchise partners at Qualicare, the sisters have unique backgrounds. Jamie's professional background is largely in insurance. Her entrepreneurial spirit led her to eventually become an independent insurance agent, driven by the desire to ensure her clients received the best products available.
Jamie also lost her husband to cancer in 2018. This tragic event gave Jamie empathy and logistical understanding to care for people in their homes during challenging times. When she hears about other people's families dealing with illness and injury, Jamie says that she "tries to help them through that part of their life," since she has personal experience.
Nicki has spent her entire professional life in the medical field, working as a certified occupational therapy assistant in long-term care and rehabilitation facilities. After serving on an Alzheimer's unit during pandemic lockdowns, Nicki gained an even greater understanding of the importance of caregivers in people's lives. Jamie said Nicki was often the clients' "only lifeline."
What brings you joy running a Qualicare franchise?
One of the sisters' first clients was an elderly woman who did not have any siblings or children and largely depended on people from her church for support. Jamie describes her as "an amusing client" who enjoyed joking with her and Nicki. She initially hired the team for a few weeks but liked them so much that she kept them on for a few months. By the time they were finished caring for her, the woman's house was organized and comfortable.
"I know how it feels to have your house unorganized when someone is sick," Jamie said, "You think 'Oh my gosh my house is a mess,' and it's embarrassing. It just felt good even in that short time to have made a difference in her life."
Thanks to Qualicare's proven business model and home office support, Jamie and Nicki have the flexibility to meet client's needs where they are, bringing more joy and stability to people's lives. Their team acts like a small family business but has the advantage of the "big business backing" to care for clients.
What are your goals for the future?
"Our goal is to help as many families as possible," the sisters said. With 6 clients already, the team is looking toward a bright future. They hope to break even within the year, and when they do: "We are going to have a party!"

Are you interested in exploring Qualicare's franchise possibilities? Check out our website and request more information today!