We're Growing! Introducing Qualicare Sugarland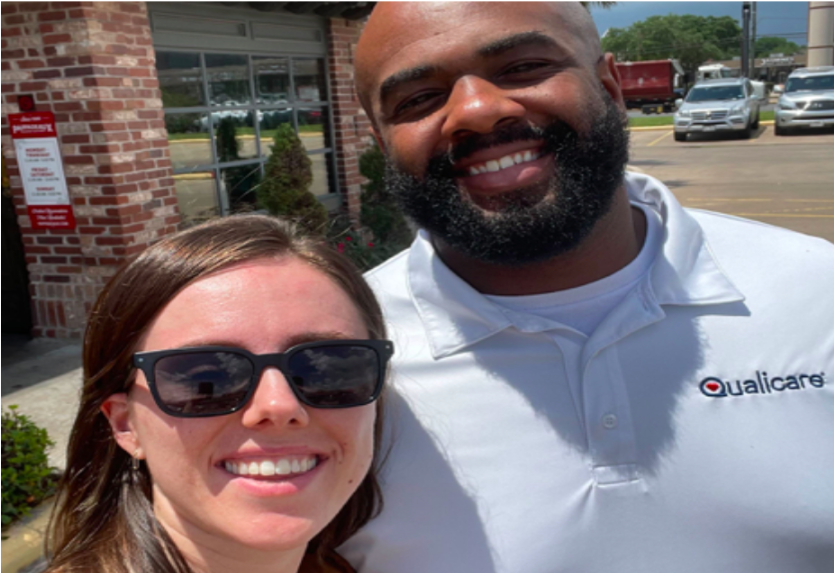 Mother-son duo Beatrice and Philip Longino (Sarah Squires, from Home Office, is shown in the photo with Philip) launched their Qualicare franchise in Sugarland, Texas, on January 1st of this year. The Longinos, like many franchise partners, have backgrounds outside of the healthcare field. Beatrice was a manager at the US Postal Service and comes to Qualicare with a strong logistical background. Philip is currently pursuing an MBA in International Business, and has extensive experience in project management, supply chain management, and as a defensive line football coach!
Today, Philip joins us to discuss how he and his mother came to join Qualicare as franchise partners.
Philip, what led you and your mother to Qualicare?
Over the years, I've had parents and grandparents who were sick and needed care. As you get older, you start to realize the beauty of caretaking. What we do as a home care agency—people's lives are in disarray with health declining, and we come in, and we support them through the storm. What drove us to Qualicare is seeing how in the US market there are a lot of opportunities to grow.
What can you share about the first few months of running a Qualicare franchise?
The first couple of months is about just getting out in the local market - putting the story to the face of the brand. At this point in the process, it's about the service. There are a lot of home care agencies out there - but what differentiates one from another is the care that you offer.
We got our first client within the second month. It's been phenomenal for us because we've been able to overcome obstacles by having our first client and are being told that they think it's a great company. It's also been very informative, hearing the experience of what other franchise partners go through. The people who have been there the longest have the answers to a lot of questions. It's really good to have an expert to help you along the way as well.
What are your goals for the future?
My goal overall is to be a CEO! But as a Qualicare franchise owner and operator, my goal is to grow the brand. We have 3 locations now, and our goal is to grow throughout the East and to be impactful. We started in Houston, and we may even go to another city.
What advice would you give someone considering launching a Qualicare franchise?
Tell them to come aboard! Let's be teammates. It's a great company, they walk you through the process. They are here with you. They're experts. It's phenomenal.