The Home Health Care Market is Booming. Here are 3 Reasons to Consider Franchise Opportunities with Qualicare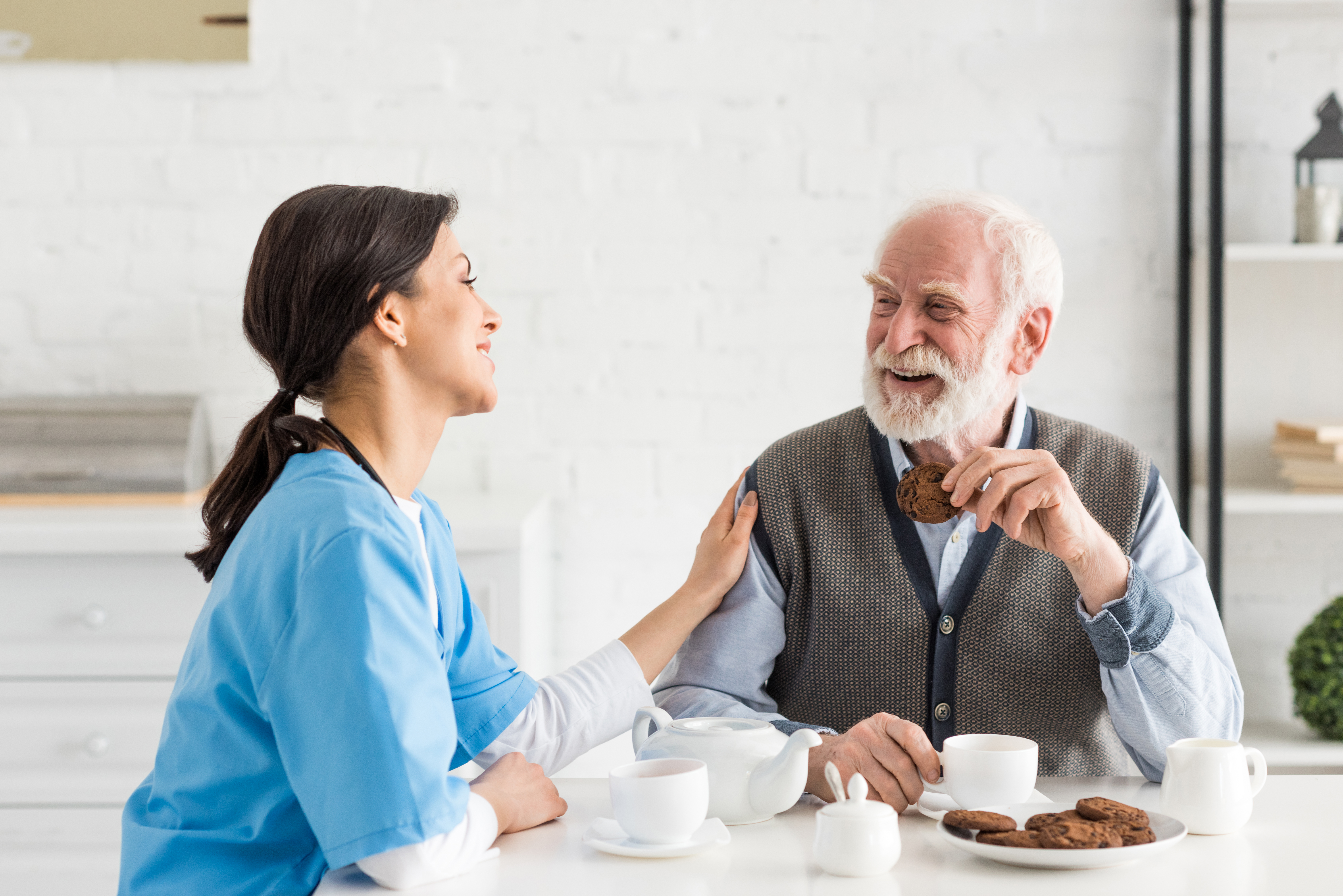 Do you have a loved one whose quality of life could be improved by a professional caregiver coming to their home, and attending to their needs? Or have you experienced navigating complex healthcare systems for a loved one, and wished there were better care options?
If so, you're in the same position as nearly all of Qualicare's franchise partners, who have personally experienced the challenges of caring for a loved one with health and personal care needs.
Individuals who are recovering from surgery, living with chronic illnesses, people with disabilities, and seniors in need of in-home care deserve to have their quality of life be a priority.
Home health care is comfortable and cost-effective, particularly for seniors seeking long-term comprehensive in-home care. And the senior population is rapidly growing.
By the year 2030, the baby boomer generation will all have reached retirement age. One in eight of those elderly adults living at home will require long-term care, with conditions ranging from diabetes to dementia.
Qualicare's mission is to provide innovative expert-led home healthcare solutions with integrity, dignity, and compassion. Our franchise partners know what it means to care for a loved one, and they have committed their lives to help other families receive the care they need.
Here are 3 reasons to consider Franchise opportunities with Qualicare:
1. The COVID-19 Pandemic increased growth in the home health care industry, which was already hot & recession-proof
As the COVID-19 pandemic made social distancing burdensome in group health care settings, and seniors and individuals with health care concerns proved more vulnerable to COVID-19, home health care became a more attractive option for many people.
This reality in turn created more opportunities for long-term care and senior care franchise owners. According to Nathan Weber, Qualicare's Vice President of Franchise Development, in the September 2021 article Qualicare Provides Comprehensive At-Home Senior Care as Pandemic Surges Growth Trends in FranchiseJournal.com, last year Qualicare gained more than 50% more franchises than the previous two years.
This trend is expected to continue. According to a 2021 article in Forbes, The Future of Healthcare is Coming Home: Three Major Trends to Leverage for Startups the U.S. home care market is expected to grow from $100B in 2016 to $225B by 2024.
The "remote" or independent nature of health care, as well as advances in healthcare technology, allow for home health care services to benefit a larger population. Everything from electric stairlifts, to monitoring devices, to telemedicine has made it possible for individuals to receive the care they need at home.
These realities make the home health care industry, on top of the growth seen during the COVID-19 pandemic, nearly recession-proof and poised for continued growth.
2. Non-healthcare professionals have the opportunity to join the healthcare industry and enjoy meaningful work
Owning a franchise with Qualicare allows people without medical degrees to serve in the health care field. Franchise partners at Qualicare come from diverse professional backgrounds. Qualicare franchise partners are former business executives, entrepreneurs, healthcare practitioners, and other professionals who want to build a business that helps people.
Franchise partners serve clients in need of long-term health care services, including people who have a disability, who are recovering from surgery or have had a major accident, and families seeking senior home care.
Qualicare connects these individuals with care workers and personal support workers, who help not only with their health care needs but also with any other needs they may have, including cleaning, buying groceries, setting up hair appointments, etc.
Caring for the holistic needs of clients is Qualicare's "360 degree of care" and it is a point of pride for franchise partners. Helping people get well and have a high quality of life provides a meaningful career for franchise partners.
Franchise partners, no matter what their professional background was before coming to Qualicare, make an impact and establish lifelong relationships in the community they care about while developing a thriving business.
3. Qualicare offers a proven business model & supportive franchise network
Qualicare's franchise model is built upon the mutual support of the home company's strong backbone, and a network of caring franchise partners.
Ideal franchise partner candidates are self-motivated, embody entrepreneurial aspirations, and believe in Qualicare's mission. In turn, Qualicare offers a cost-effective and proven business model and support network. In a 2014 article, Forbes magazine noted that it can cost "$500,000 or more" to open up a franchise. Home healthcare franchises, Forbes noted, are more likely to cost much less. Qualicare requires all prospective franchise partners to start with a net worth of $250,000.
Due to this proven support system and the Qualicare business model, more than 70% of our existing franchisees own more than one territory. And, our franchisee satisfaction rate is 20% higher than the industry average.
Qualicare is also backed by Clear Summit Group, a highly selective investor and partner. Qualicare benefits from the collaboration of Clear Summit Group's community of brands.
New franchise partners benefit from extensive training by Qualicare, including an 8-week training course with a week-long intensive, and at least a year-long individual mentorship program with Megan White, Qualicare's business coach. Additionally, Qualicare offers franchise partners leadership opportunities in the organization, including a franchisee advisory committee and thought-leadership groups.
Franchise partners share services, including software and advanced technology, preferred vendors, and accounting.
But it is the day-to-day moral support that Qualicare offers which really makes its franchise program unique. The ability for franchise partners to learn from each other, and support each other every step of the way, is the real key to success.
Curious to learn more?
Owning your own business doesn't have to be a gamble. At Qualicare, we understand the challenges of making a bold career move. Franchise owners at Qualicare have the space and support to flex their entrepreneurship muscles, with the structure and security of a well-established brand in an industry primed for growth. Learn more about becoming a Franchise Partner with Qualicare today!