Qualicare Certified as Great Place To Work® Following Employee Survey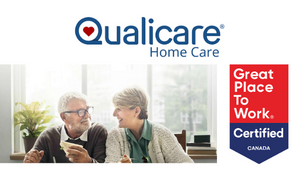 We're thrilled to announce that Qualicare recently became a certified Great Place To Work® in Canada! The distinction was awarded after a recent survey, conducted by Great Place To Work®, confirmed what Qualicare has known since our founding: employees at Qualicare love their work. Of all surveyed employees, 91% percent responded affirmatively to the statement: "Taking everything into account, I would say this is a great place to work."
The employee survey, taken mainly by caregivers and office employees, is based upon a Trust Index© survey which measures the levels of workplace trust in five different areas: fairness, respect, credibility, pride, and camaraderie. The overall Trust Index© score was 88% — an extremely high ranking given that the survey threshold of Great Place To Work® certification is 66%.
"I am thrilled to see how satisfied our employees are at Qualicare," said Jonathan Nedeljkovic, president of Qualicare. "Since our founding, Qualicare's mission has been to create an excellent work environment for our caregivers. We know that happy caregivers provide the best care to clients we serve."
The key to job satisfaction and motivation at work lies in feeling important. At Qualicare, the culture of the company encourages employees to work hard and to take care of their whole selves and their families. This is why employees stay with the company. Qualicare lives its values, and the survey reflects this distinction. An inspiring 91% of employees said they felt pride in their work, and 90% said that they feel the company has high credibility.
Additionally, a key to job satisfaction lies in personal and professional growth. Qualicare provides challenging work assignments, showing the high trust and faith the company has in its employees' ability to respond to new challenges. This reality has been tested over and over given rapidly changing pandemic protocols and changes in healthcare.
"Qualicare franchise owners offer professional development to caregivers, show appreciation for a job well-done, and practice transparency at every step of employment," Nedeljkovic said.
According to their website, a Great Place To Work® certification is "an accreditation which demonstrates to the market that you are an employer of choice." The hope of the certification system is to improve the workplace "through reporting, analysis and next steps to enable an even more successful culture."
The certification will last one year, after which Qualicare will conduct another survey to be certain our employees remain satisfied and working in a healthy and lively environment. Qualicare shares the certification with noted companies like Hilton, Simply Green Home Service, Bacardi Canada, Inc., Connect Hearing, and other great brands.
"This certification simply showcases what we hoped to achieve as an organization, which is that Qualicare is a fantastic place to work in Canada!" Nedeljkovic said.