We're growing! Introducing Edmonton Northwest with Franchise Partner Dana Chan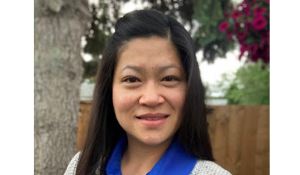 Dana Chan, an elementary school teacher for 18 years, took the leap into business entrepreneurship this May, opening Qualicare Edmonton North, in Alberta, Canada. A franchise partner with an education background, Dana says her first months owning in-home healthcare and senior care franchise have been a whirlwind of new information, and exciting steps forward.
Today Dana joins us to discuss her journey with Qualicare and her goals for the future of her business!
Dana, what led you to Qualicare?
I've always thought owning a business would be in my future, and when the pandemic hit, I realized that this might be a good time to take a leap of faith. A friend of mine is a franchise consultant, and she helped me learn what would be a good fit for me, which led me here.
My interest in Qualicare was also due to my personal experience. I always knew I would try to do something so that I would be able to help my own family members in the future, for example, when my parents age. When I was in my 20s, my grandfather and great-grandmother both went to live in senior care facilities, and they did not have the best experiences. I remember thinking to myself "maybe there could be better services out there for seniors."
How does Qualicare support you?
There are two other franchise partners in Edmonton, and they have been a really great support system for me. They've helped me with a lot of "getting started" kinds of questions and I have a lot of questions!
The home office has been really helpful too. They give me advice and a working formula for running a homecare business. Everyone is very responsive when I need to set up a meeting or ask a question. When I meet with the members of the home office team, they are always informative and easy to talk to.
What can you share about the first few months of running a Qualicare franchise?
The learning curve is just straight up! I haven't owned a business before, and I don't have a healthcare background, so I am learning a lot. But it's definitely something I know I can do, and it's a challenge I'm willing to take on. It has been a really great experience so far.
It's a balancing act as well because I'm still teaching part-time. But I will take a leave from teaching and focus on Qualicare full-time during the next school year. I have hired a care coordinator with a medical background, and a handful of healthcare aids who can help keep our clients and prospective clients organized.
I am learning a lot about how Alberta Health Services works, and how government funding can contribute to homecare. I'm advertising our services, too, with help from the home office.
What are your goals for the future?
My main goal is to help people. Yes, there are numbers I would like to hit, and I want this to be the only job I do. I want to say that I own a business, it's successful, and I'm helping people at the same time.
I have my family members in mind as well as I establish this business. While hiring staff I think: "Would I be happy to have these staff members helping my own family?" To me, this business is personal, and creating quality in-home care is the most important goal.