Understanding the Transition Curve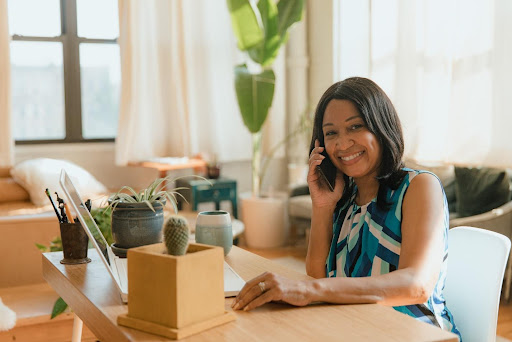 Starting a new business is a courageous, and exciting adventure in life. And it is one of the most emotional experiences people report having throughout their careers. Emotional well-being is vitally important for humans to be physically and mentally well, so it's incredibly important for anyone starting a new business to be prepared for the highs, lows, and emotional swings! The emotional process of starting a new business is known as the transition curve.
Understanding the transition curve of business entrepreneurship will help normalize strong emotions. There are many emotions in each stage of the transition curve, but most people will be able to find themselves in one of four of these stages. Each phase is associated with emotions that are both positive and negative, and the phases are not always perfectly linear.
Qualicare's in-home healthcare and senior care franchise partners experience the transition curve as well. Together with their franchise owner peers and the support staff at Qualicare's Home Office, no franchise partner is left behind, wondering why they feel the way they do! Emotions are normalized at Qualicare, and community support is always on hand.
For a brief overview of the transition curve, here are some of the emotional stages to expect:
Busy & exhilarated
When you take a huge leap in life with your career, it's incredibly exciting! Be ready to feel energized and exhilarated. Many people dream of owning their own thriving business and taking a tangible step toward that success feels amazing. This phase can be known as the "honeymoon" phase, and it's great to recognize it and to hold onto those fantastic emotions because you'll need them down the line.
As reality begins to take hold - sometimes entrepreneurs feel lonely, after leaving their old jobs and old habits. It can be hard to relay these feelings to family and friends, who may not have gone through the same experience. It's ok to feel lonely and afraid, and it's important to let those emotions flow so they don't dominate your world. One way to curb potential loneliness is to have regularly scheduled dates with business coaches and fellow franchise owners, to normalize feelings and make sure they don't derail your progress.
During this early stage, it's normal to feel extremely busy and potentially over-committed. Oftentimes at the beginning of starting a new business the new commitments of finances, time and energy can feel overwhelming and difficult to manage. Some new business owners feel guilty about not being with family as much or not seeing friends as often. It's important to name these feelings, and allow yourself the flexibility to re-organizing projects, make lists, and break up work to make it more manageable.
Reconsidering
During this second phase in the transition curve, entrepreneurs will experience a variety of emotions around reconsidering their new enterprise. Business ownership is a new identity, and any time a new identity is formed, it's normal to feel a little lost and uncertain. It's a new role to take on managing a business and even for the most adaptable and skilled people, there is a big learning curve. Embracing the present moment, and allowing the uncomfortable emotions to come and go, while adjusting to a new identity is a great way to move through this phase. Having clear goals and a network of accountability will help new business owners stay focused!
As identities shift, it is normal to at times feel like there is no solid ground to stand on. It is easy to become overwhelmed by how much you don't know. Having some mixed internal signals, and confusion with family and friends over the business is normal at this phase. Fortunately, as individuals continue to pass through difficult phases and find new footing, a renewed enthusiasm appears, which will be stronger than the initial excitement. Through each new step, entrepreneurs gain more confidence that they can survive the next difficult phase.
Doubting
During the third stage in the transition curve, many entrepreneurs say that it is hard to measure their progress, and therefore they can have performance anxiety. It can be difficult to understand what a positive milestone is, and therefore it's important to have a business coach or support system of other business owners to help maintain perspective.
At this stage, many business owners face unexpected challenges. Contracts don't always work out, clients don't always come through, and some days you will just feel defeated. This can be very frustrating and morale-lowering. But it is so normal - everyone experiences these frustrating days. Just remember to keep taking one step forward at a time.
Confidence & contentment
At the beginning of the fourth stage of the transition curve, it is normal for entrepreneurs to experience some fatigue. When you don't have energy for creativity, family, or your own emotional needs, it can lead to depression and anxiety. So, sometimes it's good to take a step back for a little bit, give yourself a good rest and let others in your business take care of things.
Then, once new business owners are able to re-calibrate, there can be a strange sense of calm or almost boredom that occurs. Because the beginning stages are SO intense, once the business is set up, and running smoothly, the pace of the job can be much slower, which is also a transition. This is a normal reaction! Allow yourself to take the time to re-adjust, whether it means taking on different projects, or simply allowing yourself to enjoy downtime more.
The final point in the transition curve is feeling confident with your new business, and content with the outcome. Starting a new business, and achieving success however you measure it, is an incredible accomplishment. Managing your own time, being able to relax, and surveying how much you've done is a deeply satisfying experience. Hard work pays off, one way or another, and taking the leap into entrepreneurship is a courageous, rewarding step!
Are you curious to learn more about becoming a Qualicare franchise partner? Request more information here today!